Twitter boosts Lists limit 50-fold, supports more accounts
|
Twitter boosts Lists limit 50-fold, supports more accounts
Twitter just tossed a mighty big bone to its power users, as the social
network has dramatically increased its limit on lists, as well as how
many people you can add to a list.

Okay, lists probably aren't the most popular feature on Twitter, but they are
heavily used by journalists, brands, publishers, and those who follow a
lot of people in order to segregate chatter from specific groups of
people out from the general Twitter noise.

One problem: Until now, Twitter allowed a maximum of 20 lists, with no
more than 500 accounts in each list. The limitation has been in place
since 2009 when the feature launched, and has been a source of much
Twitterati grumbling.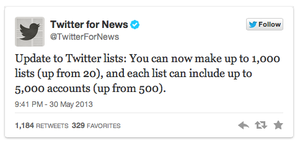 No more. Twitter announced late Thursday
that a user's maximum number of lists has been increased a whopping
50-fold to 1000 total, while the number of accounts you can follow in a
list has been increased tenfold to 5000 accounts.

Twitter is late to the table with its beefed-up list support. Google+'s
innovative Circles feature essentially revolves around sharing posts
only with specific groups of people, while Facebook recently bolstered its lists features with automatic sorting. However, Twitter does not support sharing to only specific lists; its implementation is solely method for organizing the messages in your feed.