Razer's new Tartarus gaming keypad is built for control freaks
|
Razer's new Tartarus gaming keypad is built for control freaks
If you can't get by with just 104 keys and a few mouse
buttons, don't despair—Razer has you covered with the Tartarus, the
latest in a line of gaming keypads designed explicitly for macro nerds
and control freaks.
Announced today in an effort to get out ahead of the big gaming hardware announcements that are likely to hit during Gamescom next
week, the $80 Tartarus doesn't offer much in the way of surprises. It's
an auxillary USB gaming keypad that's designed to sit on your desk, fit
in the palm of your hand and offer up a spare rack of programmable keys
that won't ghost on you—meaning you can hit multiple keys at the same
time and your PC will recognize and respond to each one of them.
RazerThe
Tartarus has 25 programmable inputs and 8 customizable keymaps, meaning
you can theoretically program it with roughly 200 unique commands.
The big selling point of the Tartarus is that it gives you
25 programmable keys and a thumbstick for navigation. That's sixteen
more buttons than its predecessor, the Razer Nostromo, though astute
readers have probably already noticed that the Tartarus only has fifteen
keys and two buttons on the right side; the additional "buttons" come
courtesy of a new customization feature that allows you to assign
commands to each of the eight directions of the thumbstick.
By default the thumbstick is programmed to duplicate
the arrow keys on your keyboard, but you can program it however you
like. For example, flicking your thumb forward and backward might adjust
your volume settings, while flicking it up and down increases and
decreases your Razer mouse's DPI. That kind of cross-device control is
neat, but it's only possible if you own multiple Razer devices and have
Synapse—Razer's device management software—running on your PC.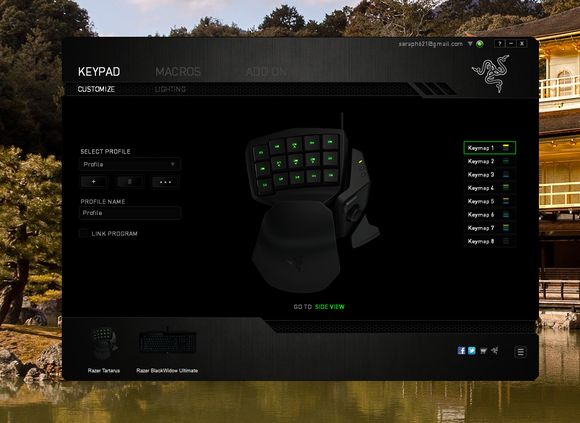 The
Tartarus comes preprogrammed with default actions, but to really get
the most out of it you need to customize what the keys do via Razer's
Synapse software.
According to notes on the most recent Synapse patch, former Nostromo
users with Synapse accounts should be able to migrate their old settings
and macros over to the new Tartarus with relative ease. It ought to be
as simple as just hooking up a new Tartarus to your PC and linking it to
your profile, but I don't know for sure because I never owned a
Nostromo. In fact, I've never used a gaming keypad at all; 25 extra keys
seems silly when most PC games don't take full advantage of the
keyboard to begin with. But dedicated MMORPG and Starcraft II players
may appreciate all the extra buttons, so keep that in mind when you read
our full review in the days to come.